Bread not Bombs is back after a two-year pandemic hiatus. On Saturday, December 3, 2022, 75 members of the community gathered in the undercroft of Holy Trinity Episcopal Church with Oxford Citizens for Peace and Justice (OCPJ). Thirty-seven volunteers, organized by long-time OCPJ member Ann Geddes, made it possible for us to share a homemade meal of beans and rice, enjoy the music of Judy and Warren Waldron and the drumming of OGADE, and appreciate the activism of two winners of the annually awarded Peace and Justice Awards.
OCPJ recognized Oxford's Vice-Mayor Chantel Raghu with one of our annual Peace and Justice Awards. A second award went to Shana Rosenberg, who is a member of two of the City of Oxford's Commissions, the Housing Advisory and the Planning Commissions, and founder of Thread up Oxford. Although they each make unique contributions, both Chantel and Shana work within the structure of City government AND outside of that structure to address basic survival needs—food, clothing and shelter—of vulnerable, really all, members of the community, through sustainable practices that keep food waste or fabrics out of landfills. They work seemingly tirelessly, contributing their time, energy and homes to redistributing resources, working in solidarity with those living in poverty.
The first Bread not Bombs dinner happened in 1986, organized by OCPJ's co-founder and first Director, Linda Musmeci Kimball. This year's BnB program, emceed by Board President Barbara Ann Caruso and Facilitator Ann Fuehrer, included Linda's recounting of OCPJ's beginning in 1979 and early years; a scrapbook of many of the photos Linda kept over the years was shared with attendees. Long-time OCPJ member Kathy McMahon-Klosterman gave a moving tribute to co-founder Jane Strippel, who died at the end of October 2022. Children enjoyed doing crafts and exploring picture books on Iran, Ukraine, and citizen movements for peace and justice. We sold buttons, stickers, peace calendars and other merchandise at our Peace Market. Flyers and displays provided education and calls to action on homelessness and environmental justice in Oxford.
If you'd like more information about OCPJ and how to join; OCPJ trifold brochures, buttons or stickers; or if you'd like to become more actively involved, including joining the Board of OCPJ, contact Ann at facilitator@ocpjohio.org
Photos provided by Mary Rezaian and Margarette Beckwith.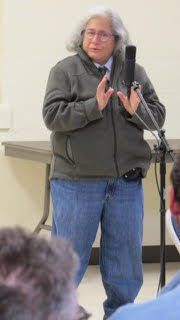 Board President Barbara Ann Caruso