Films and Books Available from OCPJ— The Peace and Justice Resource Center maintains a lending library if you are looking for some educational video or print resources for your home and/or classroom. Some of the resources are new and some are classics. Stop by and browse our collection.
Contact the Peace and Justice Resource Center Director if you have questions or want to reserve a dvd or book, or use other information in our files. Remember to keep the Peace and Justice Resource Center in mind if you are looking for a new home for any DVD's or Videos from your library that reflect our principles.
Archived Resources from previous posts:
Remembering Francoise Dagenais:
Francoise Dagenais 1917- Francoise Dagenais (nee Monnoyer de Galland), a member of the Oxford community for many years, died on January 6, 2016 in Brussels, Belgium. Born on February 19,1917 in Villennes sur Seine, France, Francoise graduated from the Ecole de Service Social, Brussels in 1948. She organized "Centre Familial," Louvain, training aides and acting as the director of placement. From 1951 to 1956 she served as a Social Worker for Social Services of Armed Forces in Brussels. To better serve her clients she was encouraged to continue her study in the US. Having read the work of University of Chicago professor Carl Rogers and his paper "Client-Centered Therapy," she was eager to continue her study with Rogers. Francoise wrote that "My dream materialized thanks to the Fulbright Scholarship, the American Woman's Club of Brussels and the University of Chicago scholarship." These grants provided her the opportunity to study with Rogers for two years. In 1957, she resumed her work in Belgium with the Social Service of Armed Forces, primarily supervising students in Social Work. In1958 with another scholarship, she returned to Chicago for a second year of training in the Counseling Center with a focus upon clients in psychotherapy. Back in Belgium, from 1958 to 1967 she was a staff member at Ecole de Service Social, teaching and counseling. In 1968 she married James J. Dagenais, Professor of Religion, at Miami University, Oxford. She continued her studies and training at institutions in Paris. When she moved permanently to this country, she led workshops on personal growth which drew on her lifelong interest in the liberation and promotion of persons throughout society and on her specific training in the Rogerian and Jungian approaches. Another lifelong concern for Francoise was the state of international relations in a world at seemingly perpetual war with tools of greater destructive power. In 1979, with her husband Jim, she joined in the effort to form an organization dedicated to peace education and action, the Oxford Citizens for Peace. Francoise remained active in the growing American network of peace groups until her return to Brussels in 2008.
Francoise will forever be remembered by her many friends in Oxford as an elegant, wise and caring lady. Donations in her memory may be made to the Oxford Citizens for Peace and Justice at 16 S. Campus Avenue, Oxford, Ohio 45056 USA. *** The Bloom Peace Education Fund was established in memory of Mel and Rosie Bloom to commemorate their dedication to the advancement of peace and justice in Oxford and beyond. Through ongoing contributions and other gifts in memory of friends and loved ones committed to OCPJ's continuing work, the fund also commemorates and honors other dedicated peace and justice activists. See: https://ocpjohio.org/bloom-peace-education-fund/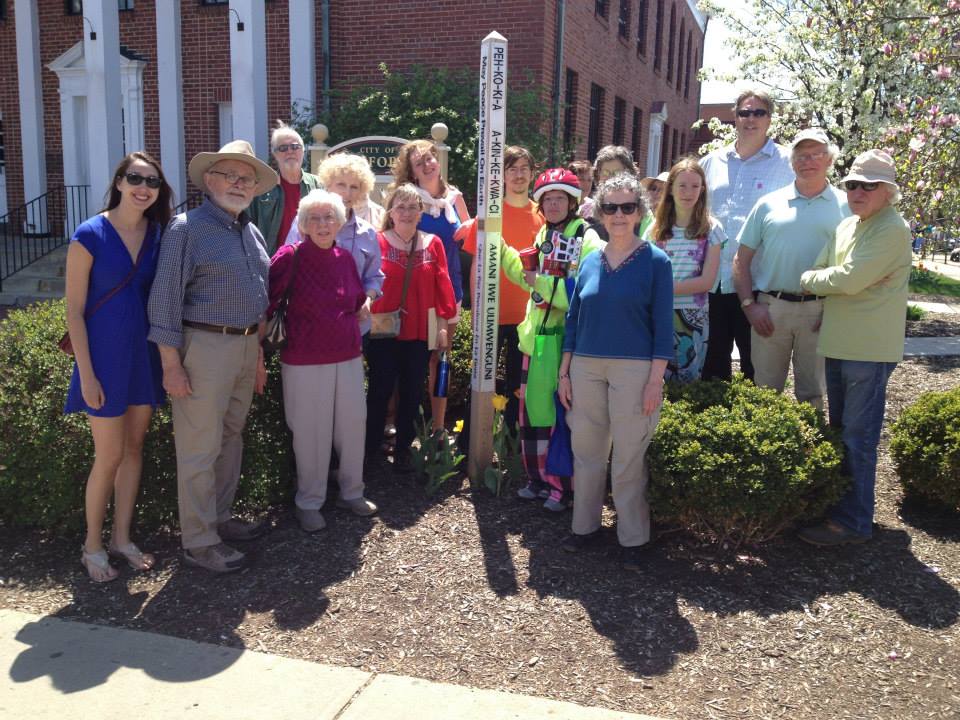 OCPJ members and friends in attendance for the official dedication of the new Peace Pole in front of the Oxford Municipal Building during Earthfest 2014.
http://skepticalscience.net/widgets/heat_widget/heat_widget.htm?yr=2000&sk=button_aa1818.css&fc=%237c1111&bc=%23aa1818&tc=%23ffffff